The Cook Islands and Fiji are two of the most popular options for travel in the South Pacific. They are both stunning locales with lots of activities and accommodation options.
The Cook Islands main island is Rarotonga, where the majority of accommodation and activities are, although Aitutalki is also a popular destination. Viti Levu and Vanua Levu are the two main islands for Fiji and are easily accessible places filled with exciting adventures.
If you are planning a trip, it may be difficult to pick between the two as both have everything you could want in a holiday. Generally speaking Fiji is busier than the Cook Islands but they are also slightly more established as a popular destination.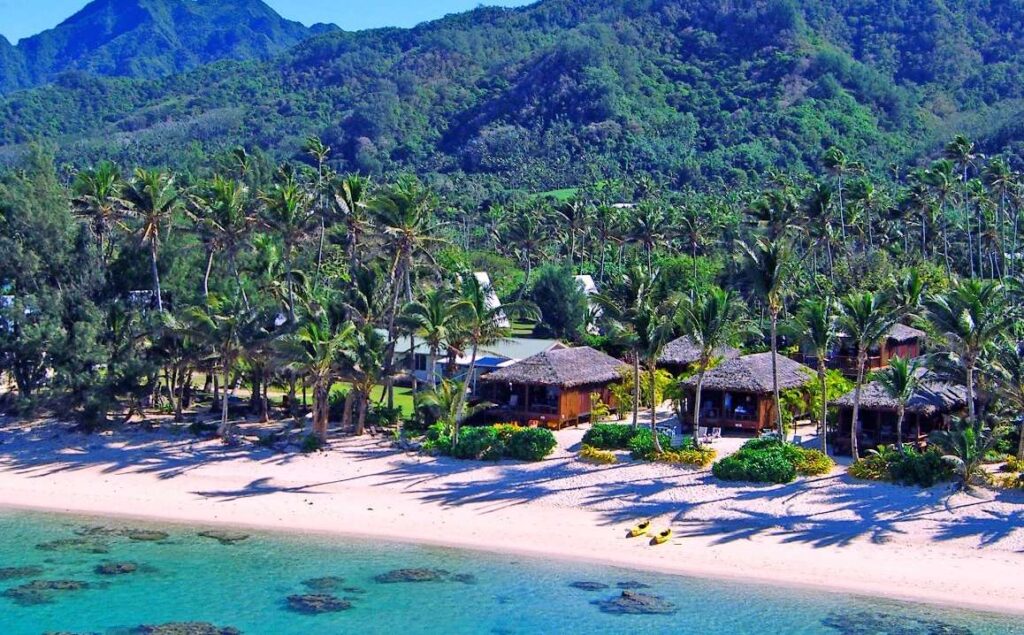 Weather on the Cook Islands vs Fiji
The two islands have relatively similar weather conditions as they are both tropical south pacific islands. However, Fiji could be described as warm and mild with some rain during the winter. The Cook Islands is often described as being sunny and warm, although late summer it can get quite cool.
Main Attractions on the Cook Islands vs Fiji
The Cook Islands can be defined by the lush and green vegetation that makes it perfect for any nature seeks like hikers and campers. There is also a big emphasis on experiencing the local culture and learning from the Cook Islands people. For this reason, cultural tours are a plenty and a really great way to spend your time on your holiday.
Water Taxis on the Cook Islands also make it very easy to visit other islands and beaches casually.
Fiji's garden of the sleeping giant is a popular attraction for nature lovers. The island is well known for its family friendly activities and attractions, as well as its wild adventure tours. Fiji also has water taxis that can take you to various islands.
Food on the Cook Islands vs Fiji
Both locations are well known for their amazing local cuisine.
On the Cook Islands you may find there is a bigger emphasis on this local cuisine. Dishes in Rarotonga often feature taro root, banana, coconuts, and raw fish. You can expect to try lots of different foods – but it will be hard to avoid things like seafood.
Fiji has a very similar local cuisine with an emphasis on fresh produce and local foods. However, if you are a fussy eater or have fussy eaters in your group, Fiji will be able to cater better. They are better known for their international cuisine and can cater to this more effectively.
Cost Of Holiday Cook Islands vs Fiji
Both of these holiday destinations are popular spots for low cost holidays as they are in close range to Australia and have lots of great travel plans available.
The Cook Islands can be slightly more costly as the island relies heavily on imports from New Zealand and international suppliers. This means that the cost of living and the cost of basic needs may be higher than you can expect at home. This is also why international foods are less accessible. Still if you eat locally and scout for good deals, your trip will also be affordable.
Due to lower import fees, Fiji is a great place to save a few extra dollars. It will still be cheaper to eat locally, but less expensive if you are craving food from home.
At the end of the day, both destinations are cheaper, and as long as you travel outside of peak times like school holidays, you can expect a good price.
Overall: The Cook Islands vs Fiji
These two island locales are very popular for good reason; they offer great holidays year round that are bound to satisfy everyone.
Overall it could be considered that the Cook Islands holidays are more suited to groups of friends, adventure trips, or a couple's trip. Adults are likely to have a great time on the island trying different food, exploring the island, and partaking in the local culture. The island is also well suited to families, although Fiji may be a better option.
Fiji holiday is well suited to families due to its huge range of all inclusive resorts, large range of food, and family friendly activities. Families are going to have a great time on the island knowing they are fully catered to.
However at the end of the day, all parties are bound to have a great trip on either island.